Highlights
A sight we have become all too familiar with - faces tiled on our screen. But this meeting was one of our daily Chapels with Mr. Huffman!
Spiritual Emphasis Week
Daily Chapel, coffee can, journaling, Bible ball. Every student from Upton Lake Christian School for the last 16 years has memories from Spiritual Emphasis Week. This year, NYS ordered schools to close facilities and move to remote learning just weeks before our scheduled Spiritual Emphasis Week. We postponed plans in the hope that we could gather together again before the year finished, but that was not to be.

Matt Huffman agreed to do our activities online. We held daily Zoom meetings for Chapel, with teaching focused on 1 Peter 5:7:
Cast all your anxiety on him because he CARES for you.
Each grade still had the opportunity to ask questions. Instead of putting them in the coffee can, they were able to anonymously enter questions into a shared Google document.

Students hand wrote a journal entry, took a picture, and emailed it. Mr. Huffman and various interns through Coastlands, along with some ULCS teachers and staff, responded directly to the student with a picture of their hand-written response. Mr. Huffman compiled the journals at the end of the week into one document for each student to keep.

Mr. Huffman shared this:
"I also wanted to thank you for giving me some of the best advice and encouragement I've had in a long time... I haven't opened up about it before for fear of being someone's burden... I've written down all the scripture references you've given me and I plan to go over them more in depth this weekend." This note to one of our team members encapsulates the value of the week to me - students bringing their struggles into the light, receiving biblical advice and encouragement, and digging deeper into God's Word. We're honored to partner with the ULCS community!
Kindergarten Prep
Kindergarten Prep at Upton Lake Christian School is a place where children learn through play. We do this through:
Sensory fun
Letter recognition and sound
Numbers, shapes and colors
Writing and fine motor skills
Building social skills
Reading and story telling
But most importantly, discovering the love of God through Christ!
News from Our Blog
Fostering Family Devotionals
October 03, 2019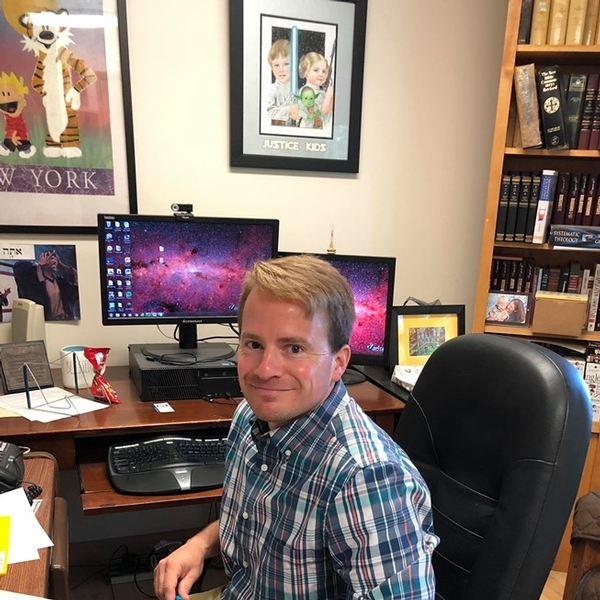 I could have easily titled this post, "How to Create Turmoil at Dinner." I am not a very idealistic person, but I had this vision of my family gathered around the dinner table. Everyone satisfied and content after a home cooked meal. I clear my throat, open the Bible and every eye turns to me and my kids listen intently as I read from God's word. We then have an age appropriate discussion applying the text to our hearts, followed by heartfelt prayers and a singing of Kumbaya. The kids politely ask to be dismissed from the table and get ready for bed in a spirit of quiet reflection. End scene.
What really happens is as soon as I reach for the Bible every child becomes one of three things – a clown with the antics (and voice) to draw a crowd in the middle of Time Square on New Year's Eve, a condemned criminal crying out for freedom on her way to the gallows, or a sufferer of chronic fatigue syndrome that …can't seem …to …keep…his head…off…the table…from…sheer…exhaustion. My warm family scene has turned into what I can only assume, is an average day in an institution for the criminally insane. Maybe this just reflects bad parenting, but if this scene looks anything like anything seen at your house, I believe there is hope.
Don't own what isn't ours to own. We are responsible to instruct our kids. Deut. 6:7 says, "Impress them (God's ways) on your children. Talk about them when you sit at home and when you walk along the road, when you lie down and when you get up." We are called to create an environment that encourages spirituality but we cannot make them spiritually minded. We are commanded to teach, but we can't make them learn. We are called to love the Lord our God with all our hearts and to do so openly, but we can't force belief. As parents, we have a tendency to take too much credit for our kids failures and successes. Let's remember we aren't the Holy Spirit. It's His job to open eyes and awaken souls.
Have Realistic Goals. Christian school kids have a unique scenario that many of us may not realize: they are surrounded by God talk all day long. As a parent and the Bible teacher at Upton Lake, I am grateful for the privilege of Bible class every day, chapel every week and Scripture memory tests every quarter, but let's not forget our kids may experience it differently. So 9 out of 10 devotionals may not have the desired impact but there may be that 1 which sparks a conversation. Tons of verses will go right over their heads, but there will be that one verse which you will have opportunity to provide some clarification on (for example, after reading part of Luke 2 I was able to explain that Jesus wasn't the constellation of Israel but the consolation of Israel and why that matters.) At the very least, it models and reveals our hearts for the Lord before our children.
Practical suggestions. The following are some suggestions I have seen and heard work. Experiment with what works for you and your family.
1. Keep it short. By the end of the day, most of our attention spans have been long exhausted. If something sparks conversation, great but there is no need to run anything into the ground. It isn't the one 60 minute conversation that deeply impacts, it's the 60 1 minute conversations that deeply impact. There is always tomorrow.
2. Bribery is my friend. Usually we don't do dessert until after our devotional. If said clown, criminal and chronic fatigue sufferer can't stay focused then his or her dessert will be waiting for them tomorrow.
3. Vary up the format. We rotate between devotional ideas. I recommend Keys for Kids. It's an easy to use app with fresh devotionals every day. There is a suggested Scripture to read, a brief story, a key verse and a take away idea. Other days we read sections out of the Gospels and listen to the word of God, uncommented and unexpanded. Some days we use a yearly family devotional and just go off the date we happen to be on. God varied up His approach to instructing His people, we can too.
Keep at it. How many years did it take for Samson to call on the name of the Lord in humility? How many months did it take for David to repent of his sin with Bathsheba? How many steps on the road to Emmaus did it take for the disciples to understand the Messiah "had to suffer these things and then enter into his glory?" God is patient with us, let's be patient with those we love the most. Here at Upton Lake we are seeking to join you in teaching to transform lives. Most of the lasting transformative moments happen outside of the classroom. The dinner table is a good place to start.
Dual Enrollment English at Davis College
ULCS is grateful to have successfully implemented a dual enrollment English class from Davis College. Our seniors have the option of completing their high school English while at the same time completing college English 101 and 102. Our high school English teacher, Renee Smith, is the teacher of record and collaborates with the English department at Davis College, using their curriculum.
We spoke with 2 graduates from last year's class: Chloe Yerger and Nadya Kruger. Both appreciated the college level paper writing skills they acquired. The credits also allowed them to skip ahead to classes in their major, reducing workload and giving them an edge.
"It helped me manage the fast-paced nursing program here at SUNY Plattsburgh." ~ Chloe Yerger, '19
"I was able to dive right into main credit courses for my major." ~ Nadya Kruger, '19
Feed The Need

This year, our school hosted a very special event called Feed the Need. This was a school wide fundraiser that will help raise needed funds for Upton Lake Christian School - but that's not all! A portion
of the funds (35%) we raise will go toward providing healthy meals for hungry children in poverty. The fundraiser culminated in a one-day Packing Party event.
Our students personally make a difference as they pack, seal and box over 10,000 meals that will be containerized, shipped and distributed to food banks in our local area and in Harlan County, Kentucky, one of the poorest counties in the US. 1000 meals were also sent to the Northeast Community Center in Millerton, where food is desperately needed as well. This was a meaningful, hands on event that provided our students the opportunity to serve those in need. We want to extend a huge thank you to all who supported this event, parents, grandparents, family and friends!! Thanks also to our corporate sponsors: Ben and Gracie's Thrift Stores, Millbrook Cabinetry, New York Imaging Services, Morgan Motors of New England and Morgan Spares Ltd, ProPrinters, Big Rock Farm Store, Paula Redmond Realty, Millbrook Painting/Sartorini Construction, and Millbrook Bank. We were so grateful to the way God's hand covered this event, all went smoothly to create an awesome experience in so many ways!
Soccer Season A Success!
For a second year in a row, the ULCS Soccer Team finished the 2019 season in 1st place in the Mid-Hudson Christian Athletic League. They played against, Faith Christian, Tabernacle Christian and Harmony Christian. Our schedule was busy as we also had matches with Torrington Christian and Mid-State Christian School. The team finished 1st in the MHCAL Tournament, with Emma Gabor being named MVP and Caleb Colclough receiving the Christian Character Award.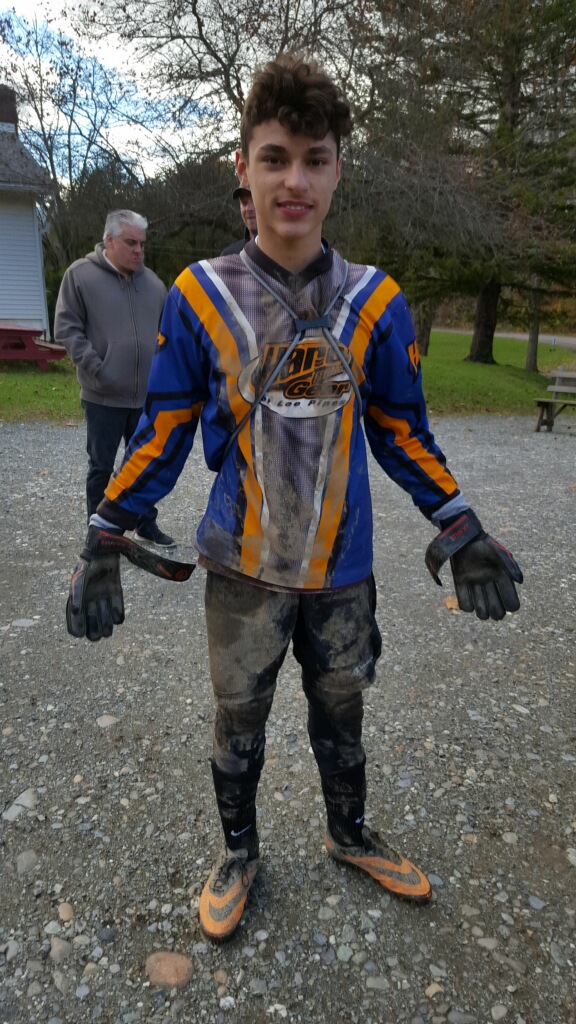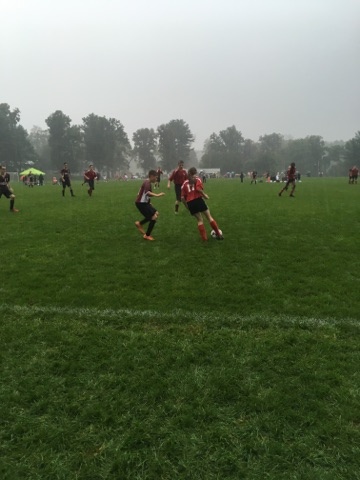 Our dedicated coaches, Jess and Dan Ecker fielded the team with forwards: Christian Hafford, Jen Puhalski and Sam Knapp halfbacks: Andrew Knapp, Tom Mollo, Rocky Santo, Ethan Karaman, Noah Knapp defense: Justin Puhalski, Emma Gabor, and Matt Moore, and goalie: Dennis Karaman
When Coach Jess Ecker was asked, "what made the team such a success?" She responded, "We trained them hard and expected each player to rise to the high standards of excellence and giving their personal best everyday- 'To do everything as unto the Lord and not unto men' (Colossians 3:23) So it was only natural that on game days they showed up, played the game we all loved and did it all with excellence for the glory of the Lord! I guess that means, for dad and myself- the 'success' was never measured with a 'win' or 'loss' it was measured by the excellence of character each player exuded on the field. And in that regard, we were hugely blessed with a team where every single heartbeat was to do all to the glory of Christ."
The Christmas Art Show and Pageant
The Upton Lake Christian School community was blessed by our annual Christmas Pageant and Art Show on Friday evening, December 7, 2018. The evening began with a time to view artwork done by students from all grades.
Mrs. Germano, our new art teacher, presented students work in drawing, painting, and sculpture. She has been an incredible asset to the art program this year and her passion to work with the students clearly shines through the joy she brings to her classroom each week.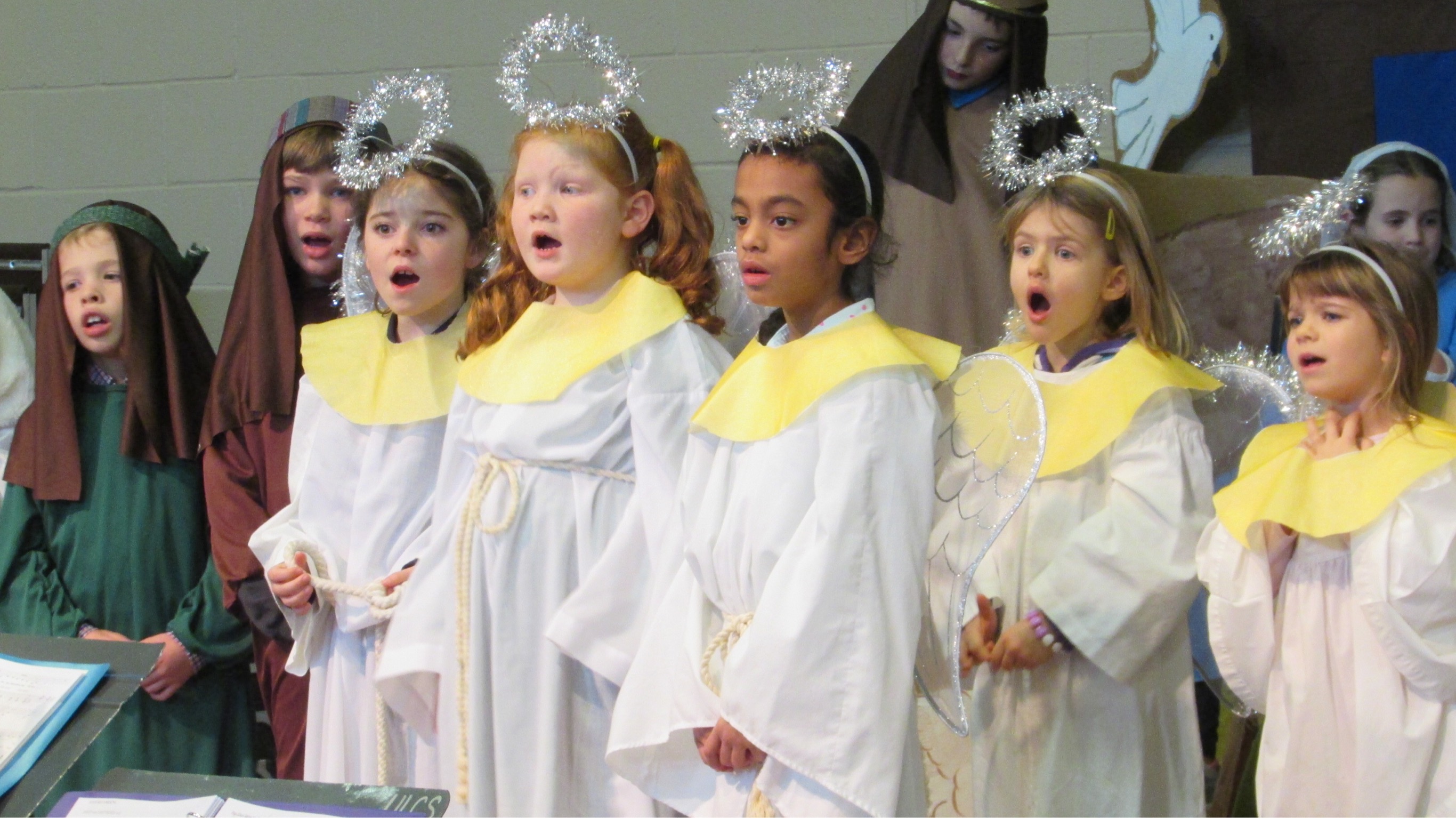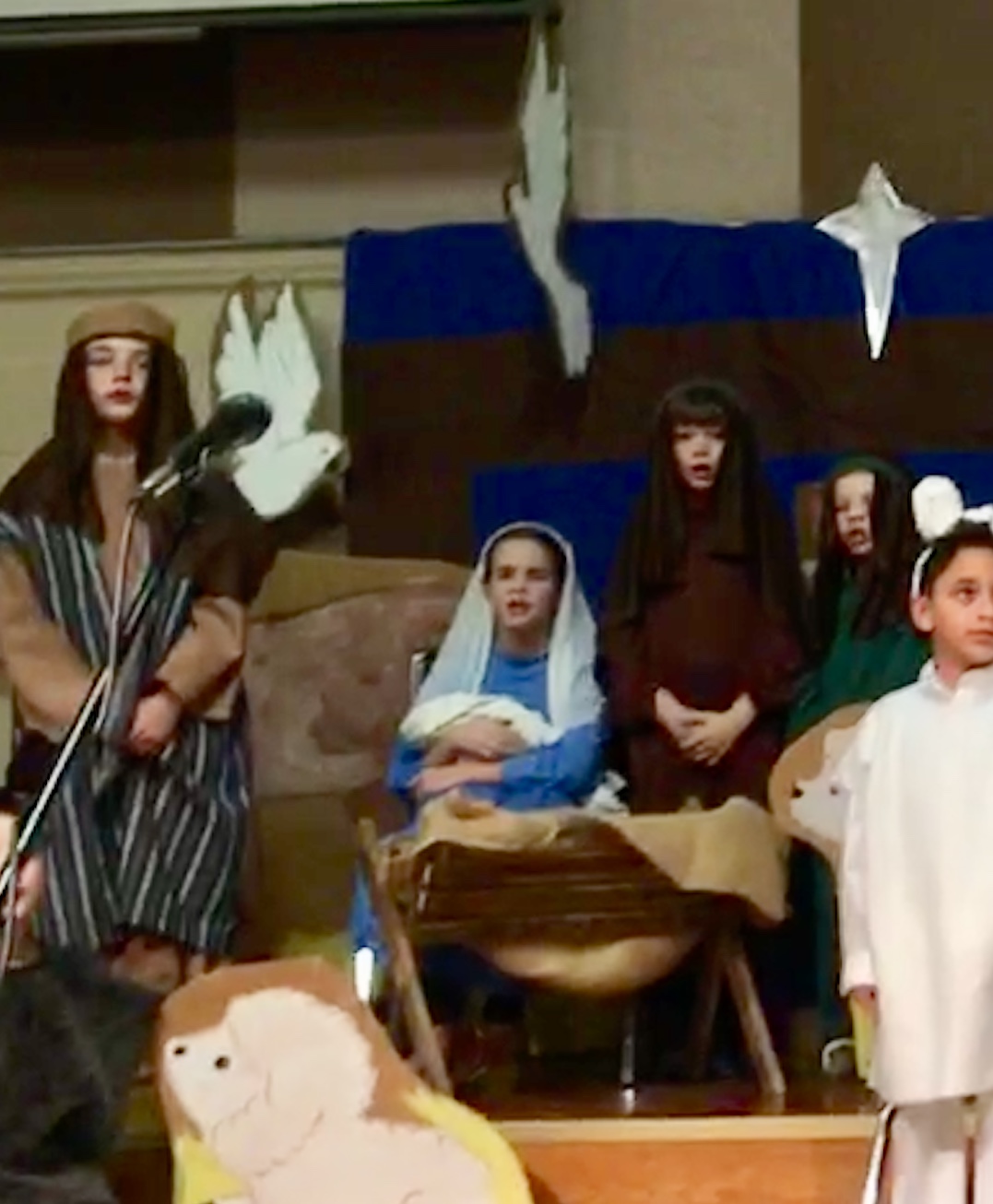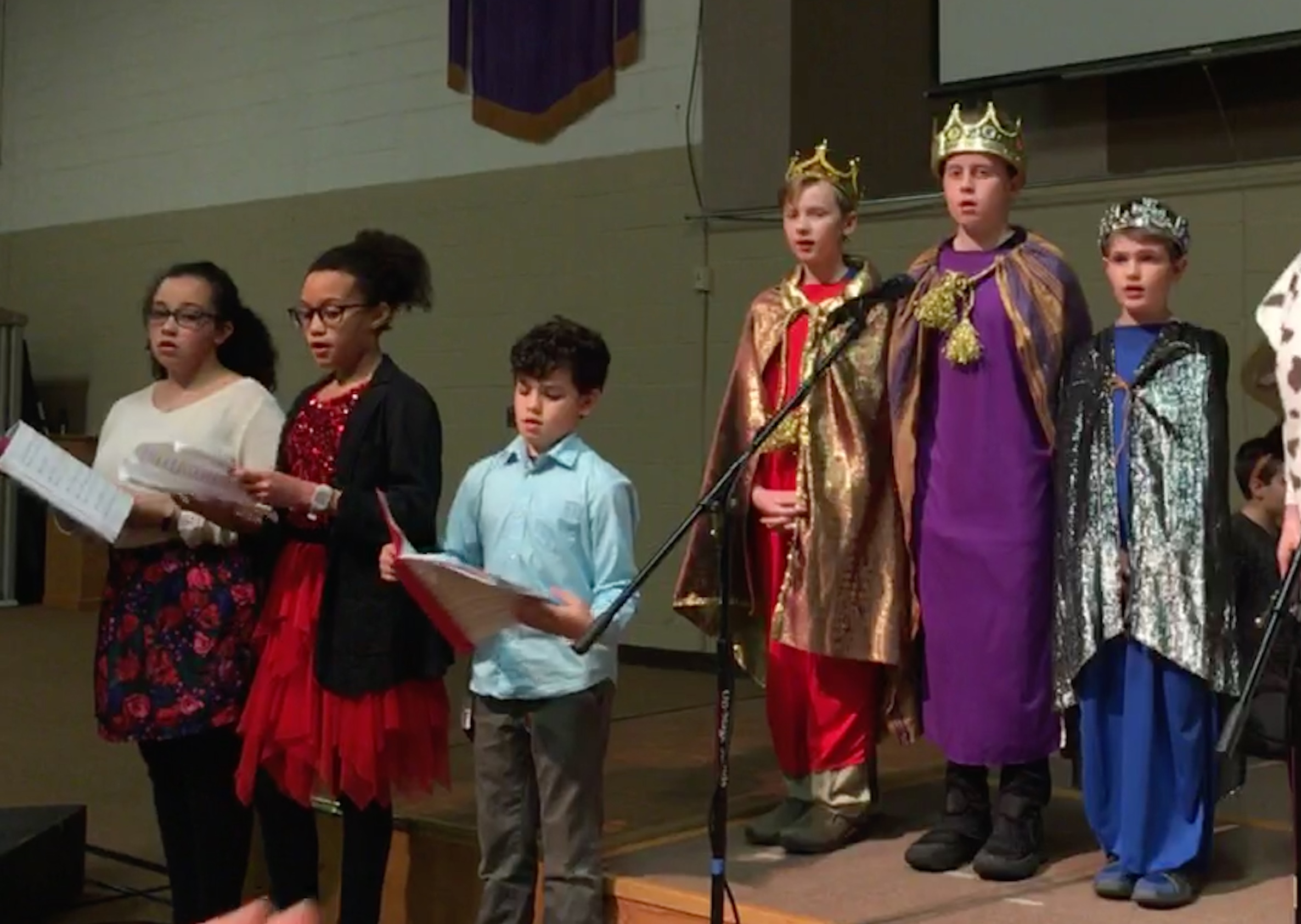 The pageant, conducted by our music teacher, Mrs. Marrine, was a simple yet powerful reminder that the story of Jesus' birth in Bethlehem IS the reason we have such hope. The Roger Emerson and John Jacobson pageant, "On Our Way To Bethlehem", was filled with joyful music and adorable animals all sharing of the story at the manger. All of the students from the elementary school participated, singing songs with featured solos by select students. The pageant also featured the high school worship team consisting of 7th-12th graders growing in their gifts to lead worship through song. It was a wonderful way to share in the praise of our Lord and Savior, Jesus Christ.
ACSI Leadership Conference
Six ULCS students traveled to Washington, D. C. to attend the re:Purpose, the ACSI Leadership Conference, November 24-26. Over 835 students from Christian schools around the east coast were in attendance. This group of young leaders was hand selected based on academics, community involvement and enthusiastic desire to make the world a better place.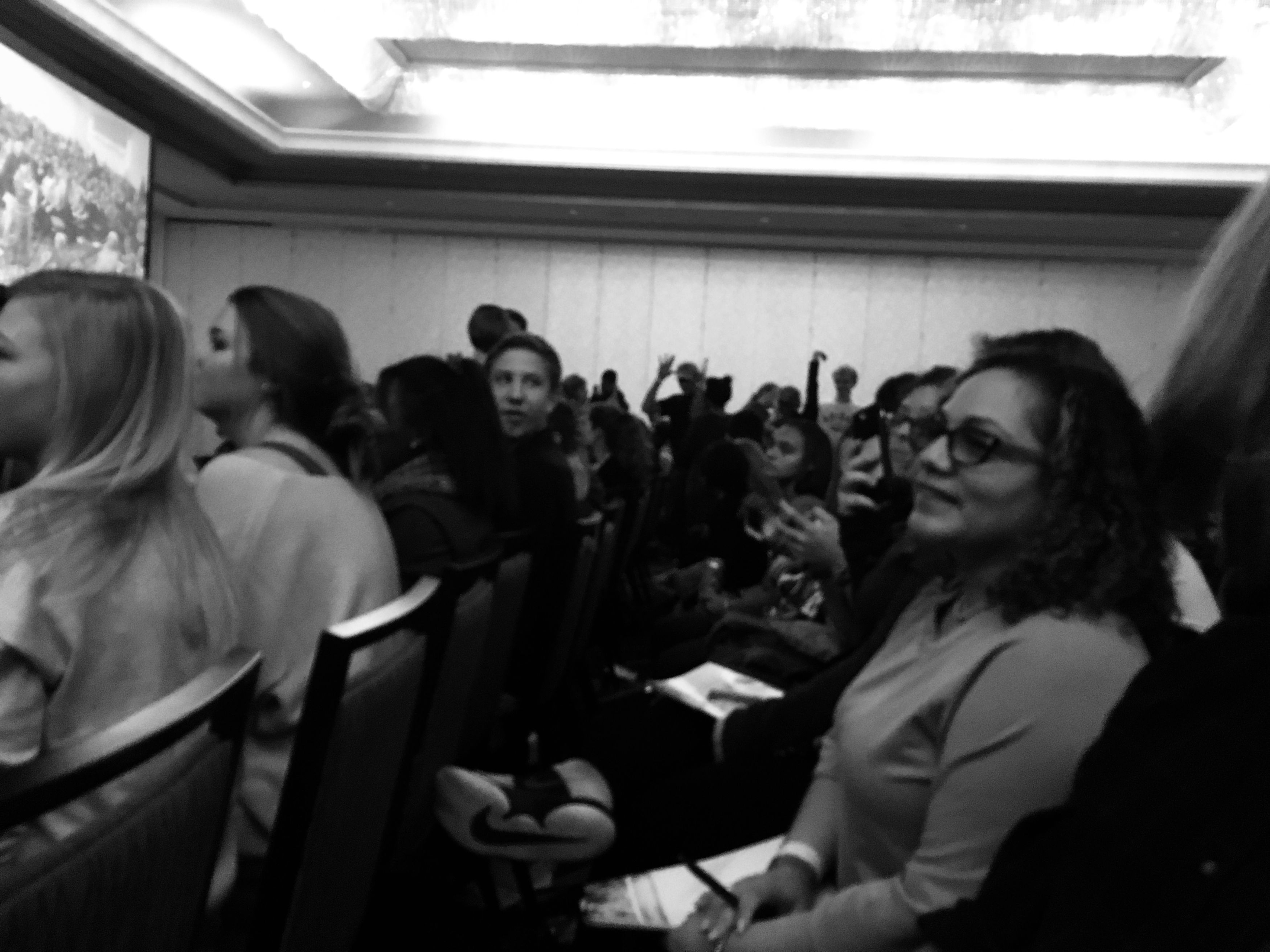 The conference speakers addressed topics such as: spiritual well-being, putting our God-given gifts into action, being "all in for God". The students were encouraged to glorify God with their lives. Speaker and student discussions allowed for self-reflection and a chance to use what they learned to impact their school and community.
While in Washington D.C. the students toured the Smithsonian and Holocaust Museum. The general consensus from the team was that the trip was educational, impactful and a great chance to see our nation's capital.
Basketball Celebration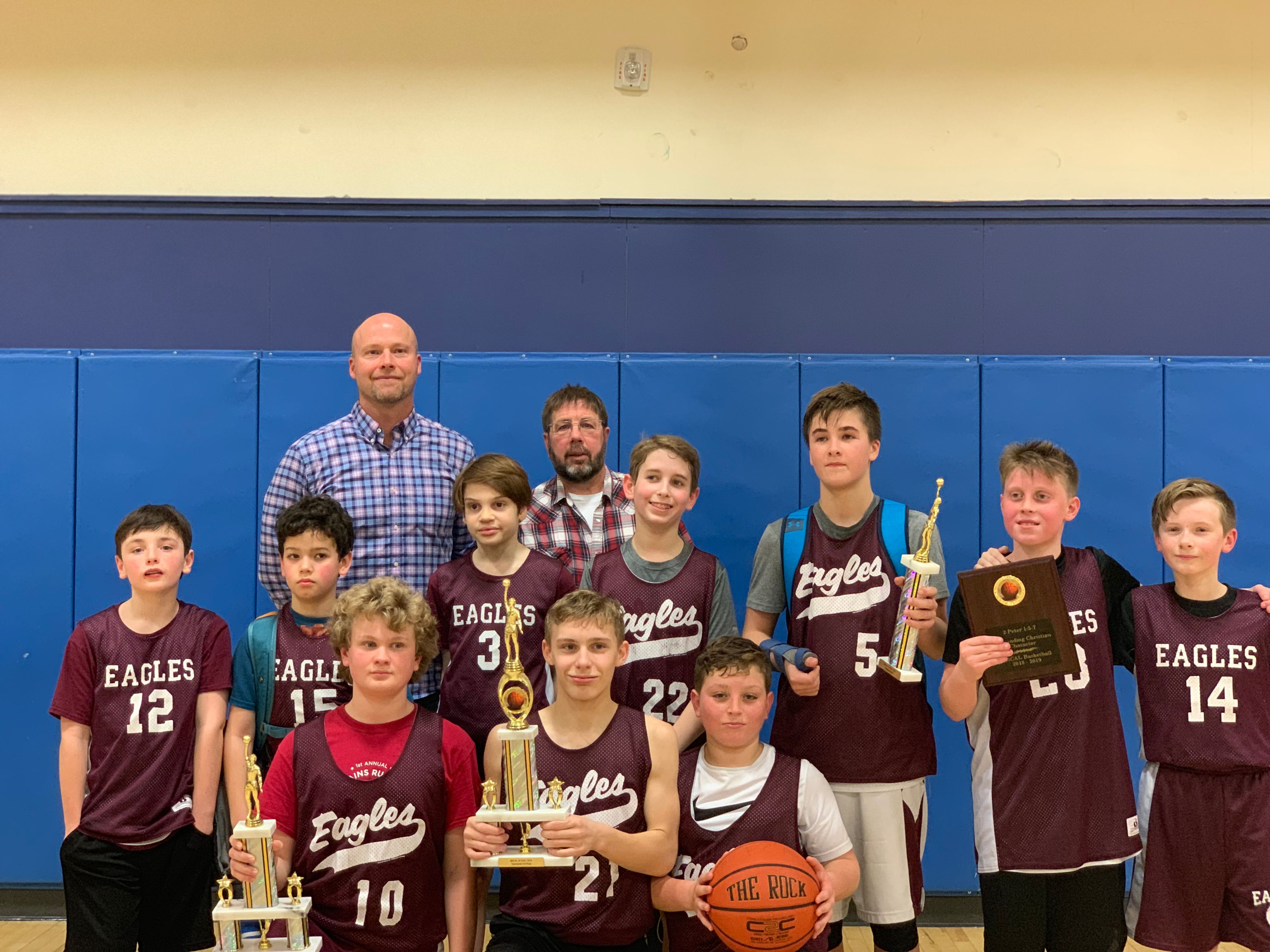 Basketball Celebration: The JV, Varsity Girls and Boys teams were recognized this past Thursday evening. Each had a great season, winning first and second place in the league and in their tournaments. Our most valuable player and Christian Character awards were given for each team. JV boys MVP: Jonny Selander CC: Josh Finley, Varsity Girls: MVP: Sarah Cole, CC: Nadya Krueger, Varsity Boys: MVP: Dennis Karaman, CC: Tommy Mollo. It was fun to watch the all school mixed tournament. Our athletes love to play and enjoy the challenge of playing with everyone in the program, young and old. This was great fun for spectators! Thanks to April Knapp for organizing the teams and Tom Barton and Dennis Karaman Sr. for reffing!
Want your child's education to include a Spiritual Emphasis Week? Click here to apply now for the 2020 20201 school year. Whether we open in person, provide remote learning, or a hybrid of both, you can join our community!

Interested in registering a student for Kindergarten Prep? Click here or call Barb at 845-420-2358 to discuss registration.

Your gift helps to support Spiritual Emphasis Week, and all of our instruction and programs.