Highlights
See you at the movies!
3 Saturdays at 10 am at Lyceum Cinemas, 15 Old Farm Rd, Red Hook, NY 12571
February 26: The Lion, the Witch and the Wardrobe
March 26: Akeelah & the Bee
April 23: Star Wars (Episode 4)
Tickets are $6 per person. Buy individual tickets here.
Package deal: buy tickets to all 3 movies for $15 per person here.
Tickets can also be purchased at ULCS during school hours. Online purchases will be sent home with your student, available for pickup, or at the movies on February 26.
100% of the ticket price (minus online payment fees) will go to Upton Lake Christian School.
Thanks to our event sponsor: Lyceum Cinemas!
Thanksgiving Service & Luncheon - a ULCS tradition returns
"May we have more all-student activities like we used to have at ULCS?" Our seniors miss these activities, which have been paused or changed due to the pandemic. So on Thursday, Nov 18 we held a Thanksgiving Service in the sanctuary, and then gathered ALL together to enjoy a meal. It was great to see everyone working to do their part -
11/12th graders set up tables/chairs and took them down
9/10th graders had student representatives read a verse or share what they are thankful for
7/8th graders shared a reading from Psalms
5/6th graders recited a verse and prayer
3/4th graders cleaned up after the lunch
1/2nd graders wrote what they are thankful for on a feather, shared it with everyone and then put it on a turkey
Kindergarteners decorated our tables for us
Mr. Hawk opened our service with a song
Mr. Justice shared a message
Many parents donated mashed potatoes, green beans or pie, or came to help with set up and serving
It is a blessing to be part of this community.
A day of Community Service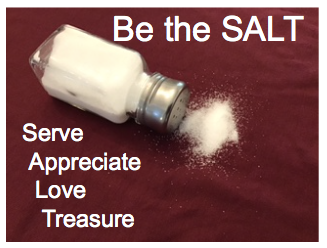 April 24, 2021
Inspired and encouraged! Those are two words to describe how I felt on Saturday at our Be the Salt Day. A little after 10 am as people were all gathering and chatting in the parking lot I looked up and 'happened' to see a Bald Eagle flying low in a beautiful blue sky! It was so clear to me it was God's way of saying, "Well done good and faithful servants." When I pointed it out, Judah (from Mr. Jordan's class) said, "And that's our mascot!" From that moment to us all gathering for prayer to walking around and seeing all of our students and families working together to socializing over pizza I was isnpired and encouraged. Inspired by how much good there is in our Upton Lake Community and encouraged by a little bit of normalcy in this covid world we have been stuck in.
I watched little pre-k students painting birdhouses for senior homes, 1/2 graders making 60 cards of love and encouragement, 3/4 graders cleaning every chair in our gym, 5/6 graders gathering over 40 bags of leaves at the cemetary down the street, 7/8 graders organizing and delivering canned goods, 9/10 graders scrubbing every inch of our kitchen and 11/12 graders (I didn't see this only heard) beautifying the front of a Crisis Pregnancy Center building. Kindergarten will be packing bags for essential workers this week. It was a beautiful day from the weather to the people!
Our Covid-19 Response
Our small community is blessed to be able to respond quickly, personally, and wisely. Thank you to the families who are so graciously adapting to the changes required in these times.
God blessed us with the ability to remain in-person for all but 1 week in 2020-2021.
For 2021-2022, we will meet in person. Virtual learning will be available only for those in 10-day quarantines due to exposure or diagnosis of COVID-19, if they feel well enough to participate.
FAQ's about fall 2021 (updated August 12, 2021)
News from Our Blog
How to Help Kids Process Grief and Loss
October 01, 2021
Grief, sadness, and loss are an inevitable part of life. We have all experienced it to one degree or another, and even though a parent's instinct is to protect their kids from pain, we know we can't--and to some degree, we shouldn't. While protecting a child from extreme harm is good and necessary, in order to learn the essential life skills of resiliency, determination, perseverance, and grit, they must go through pain and learn how to cope with it in a healthy way and move forward. "Not only so, but we also glory in our sufferings, because we know that suffering produces perseverance; perseverance, character; and character, hope. And hope does not put us to shame, because God's love has been poured out into our hearts through the Holy Spirit, who has been given to us. Romans 5: 3-5 So, what do we do when our kids are hurting? How do we help them recover and learn to forge ahead?
For my family, the first time I really had to wrestle with this head-on was in June of 2019, when my 5-year-old twin daughters were at the end of their Kindergarten year. It was a beautiful, spring Sunday. We had gone to church in the morning, and then my husband, daughters, and myself met up with a friend and her two kids at a strawberry festival being held at a local historic site. They had free strawberry shortcake, old-time crafts for the kids, live music, and a petting zoo. It was a great day.
We had been there a few hours and I noticed that my phone was going off a lot--but I ignored it, determined to be more present with my family than tied to my technology on this beautiful day. Finally, I decided to just check the voicemail, so I sent the kids with my husband and stepped outside to a quieter area. I was completely unprepared for what I heard. As I listened to several voicemails in a row from my aunt, my uncle, and finally a police officer, I was given the surreal news that my father, 63 years old and seemingly in top health, had died. There was no lead up, no preparation, no warning, no goodbyes to be had. Just a few weeks prior I had talked to him on the phone about upcoming Father's Day plans. And all of a sudden, here I was, facing the biggest loss of my life to date. And my children, who adored him and saw him regularly since birth, who knocked him over with squeals and hugs every time he came to the door...what would I tell my children? This was the first time I had ever faced the responsibility of not only processing my own grief, but caring for others who were even less prepared to deal with it than I was. It was one of the hardest things I've ever done. But God, as always, is faithful to meet us in our time of need, to equip us for exactly what we need to do, if we will just trust in Him. Here are the ways that were effective for my family to process our grief, and how my kids were able to start working through such a big loss at such a young age.
Grieve with them and let them see you process your own emotions in a healthy way.
After getting this news, clearly my kids could see there was something wrong and that I was upset. Although they were concerned and wanted to know right away what was going on, I insisted on waiting until we got home to tell them so that we could be in a safe, familiar space where we could react however we needed to. We all piled on the couch together, I put my arms around them, and told them the news. One daughter immediately burst into sobs. The other was stunned into silence. And so we sat together, crying and hugging, for as long as we needed to.
As parents, we sometimes can take the stance that we need to "be strong for the kids." And in some ways that's true: they need to see that they can lean on us as hard as they need to, and we won't let them fall. But kids also need to learn about how to process their negative emotions in a healthy way, because we all experience sadness, anger, grief, loss, etc. Like it or not, we are role models for our kids--they are watching us--even when we don't feel like we have it together. And truthfully, none of us really has it together, do we? We are all sinners, we have all fallen short of the glory of God, there is none righteous; no, not one (Romans 3:10 & 23). We all need God's grace to fill us and sustain us, every day; we all need that set of footprints in the sand that carries us when we are too weak to do it ourselves. Our kids need to watch us experience our negative emotions and come out on the other side OK. So maybe we save the facedown-on-the-floor-ugly-crying moments for the privacy of our own rooms...but we should let our kids see us cry and grieve some. Otherwise, they may come to the conclusion that their own tears are bad or wrong. They may think that it makes them weak. But we need to show them that the opposite is true: even Jesus wept when Lazarus died (John 11:35). We should talk to our kids (in an age-appropriate way) about why we are sad, how it makes us feel, and what we are going to do about it. In doing this we are demonstrating for them a healthy way to process emotions. We should share with our kids how God is helping us through this pain, even if sometimes that just means that we cry along with our kids the way that Jesus cried with his friends, just to show them that they're not in it alone.
Acknowledge and validate their feelings: everyone grieves differently.
When I told my twins about their grandfather's death, they each reacted differently: one burst out, the other shut down. Both were hurting. And both responses were valid ways to process the news. When it comes to grief, there is no "right way" to do it: everyone, child or adult, has to do what is best for them, and what they need at the moment. And, those needs can change from moment to moment. Some people want lots of friends around; others isolate and seclude themselves. People can react to grief with anger, sadness, shock, or even seem to be totally unaffected. Whatever your child's reaction, don't shame them for it or make them think they are "doing it wrong" just because it's different than the way you might do it, or the way you expect them to react. Instead, say things that validate their feelings without passing judgment: no criticism, no praise. Just acknowledgement that they are feeling this feeling right now, and that it's OK for them to feel it.
Grief is not a quick process: it can last months, years, or a lifetime. There is no wrong way. There is no timeline for when someone should "just get over it already." Give love, Give grace. When, over the past year, one of my children would burst into tears at a seemingly random moment and confess to me, "I miss grampy…" my reaction is to hug them, hold them, let them cry, and say, "I know. I do too. It's ok to miss the people you love." And ride the wave with them. Reassure them that whatever they are feeling, you love them. This is most certainly what God does for us: "I have loved you with an everlasting love; I have drawn you with unfailing kindness." Jeremiah 31:3
Emphasize the way God's love holds us/cares for us in our grief
"I have told you these things, so that in me you may have peace. In this world you will have trouble. But take heart! I have overcome the world" John 16:33. Oh, the many, many ways that God shows His love and care for us, especially when we are hurting.
Quote scripture to your kids that reminds them of God's unfailing love.
Share with them stories that illustrate the ways that God has worked in your own life, carrying you through tough times.
Remind them that this world is not perfect, but that God is not surprised or caught off guard by this--in fact He has already given us promise after promise to sustain us in our troubles.
Study Bible stories together of the many, many people in scripture who endured much pain and yet found joy in the Lord that sustained them (Job, David, and Paul come to mind just for starters). The Psalms are also a great place to reference for examples of other people who have sought God for comfort in their suffering and found it.
Find a special way for them to memorialize/celebrate their good memories
When my father died, I printed out all of the pictures I had of him with my kids from the time they were born. It was a stack of wonderful memories. Then, my mother took my kids to the store and let them pick out any photo album they wanted. They sat down and set to work at their own pace, in their own timing, filing those photo albums, able to talk about the good times and relive the memories and grieve as they went. And now, they have a special place for those albums in their room, and from time to time I will see them pull it out and look through it. This empowers them to do what they need to do at their own pace, in their own timing. When we lose someone important to us, pretending like it never happened or living in denial is not helpful or healing. We heal best when we can acknowledge that the hurt is deep because the love was deep--this validates the significance of the loss in our lives and lets us know that what we are feeling is part of the healing process. Find a way to help your kids do something special and meaningful in remembrance of the person they are grieving.
Give grace.
Try to remember that since everyone processes grief in a different way, on a different timeline, your kids may show their grief in ways that neither you nor they expect, and they might not even be aware of it. Especially if they are very young, they might not be able to verbalize their emotions appropriately, and might act out without even knowing why they're doing it. Anger, hitting, tantrums, talking back, crying, stomachaches/headaches, and silence are all ways that your child might show grief--and especially if you yourself are grieving at the same time, your already fragile nerves might have a lot less patience for this type of behavior from your kids. In those moments, before you react, TRY your best to take a deep breath and give them an extra helping of grace from you. Try to do for them what God does for you: react with love first. Yes, keep appropriate boundaries in place (i.e., you're not allowed to hit your sister), but also consider that this child might be acting out even if they don't know why, as a side effect of the many difficult emotions they are dealing with. This has happened in the past year with my family several times. On some occasions, my normally well-behaved children would be acting up or overreacting to a situation in a way that seemed totally out of character. So, I would try to dig a bit and find out why. After me correcting the behavior, if they still seemed "off," I would ask them, "This really doesn't seem like the regular you that I'm used to. Is there something else going on, or something you else you're thinking about?" And about 40% of the time, they'd get to a point where they would burst into tears with "I miss grampy..." At which point I would switch to, "I know, me too," and hugs until they had cried it out. "Be kind to one another, tender-hearted, forgiving each other, just as God in Christ also has forgiven you" Ephesians 4:32
Dealing with grief and loss is never easy, no matter our age. But we can help our kids navigate, learn from it, and come out the other side with the maturity, character, and emotional tools they need to continue on in a healthy way.
ULCS is amazing! The teachers/admin go above and beyond, they are just unbelievable!! During a time when all schools are closed, my son is still learning, doing his work and attending live online classrooms - seemingly without a hiccup of a transition during a time of chaos and uncertainty. ~ ULCS Parent, 2 weeks in to Remote Learning

Sound good? If you are interested in joining us for the 2022 2023 school year, please call Mrs. DeWitt at 845-266-3497 to explore your options, as spaces are limited.

Your gift helps to support ULCS as we live out our mission.
"One perk of being a small school is that we are not only a school community but a family. This family has never failed to encourage each other in bad times, laugh with each other in the good times, and push each other to become better... Yes, this school has brought me great memories, amazing friends, academic knowledge, life lessons, and much much more, but the most important thing is how it aided me in making my faith my own."
~ Jennifer Puhalski, Salutatorian, ULCS '20