Highlights
A day of Community Service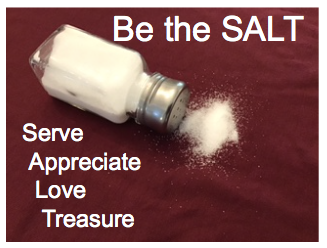 April 24, 2021
Inspired and encouraged! Those are two words to describe how I felt on Saturday at our Be the Salt Day. A little after 10 am as people were all gathering and chatting in the parking lot I looked up and 'happened' to see a Bald Eagle flying low in a beautiful blue sky! It was so clear to me it was God's way of saying, "Well done good and faithful servants." When I pointed it out, Judah (from Mr. Jordan's class) said, "And that's our mascot!" From that moment to us all gathering for prayer to walking around and seeing all of our students and families working together to socializing over pizza I was isnpired and encouraged. Inspired by how much good there is in our Upton Lake Community and encouraged by a little bit of normalcy in this covid world we have been stuck in.
I watched little pre-k students painting birdhouses for senior homes, 1/2 graders making 60 cards of love and encouragement, 3/4 graders cleaning every chair in our gym, 5/6 graders gathering over 40 bags of leaves at the cemetary down the street, 7/8 graders organizing and delivering canned goods, 9/10 graders scrubbing every inch of our kitchen and 11/12 graders (I didn't see this only heard) beautifying the front of a Crisis Pregnancy Center building. Kindergarten will be packing bags for essential workers this week. It was a beautiful day from the weather to the people!
Fostering Family Devotions
Click here to request a free copy of "Fostering Family Devotions" by our Chaplain and Bible Teacher, Zach Justice. Then check out all that Upton Lake has to offer!
Our Covid-19 Response
Upton Lake returned to school on Sept 9, 2020 with full in-person learning. We provided flexible remote learning options to meet the needs of all students who are unable to attend in person, whether for the duration or just temporarily due to illness or exposure.
Our small community is blessed to be able to respond quickly, personally, and wisely. Thank you to the families who are so graciously adapting to the changes required in these times.
Update: 7/9/21 We are carefully watching the state mandates related to schools but do not expect final word for the requirements for 2021-2022 until August.
FAQ's about fall 2020 reopening (stay tuned for 2021 information)
News from Our Blog
Living in the Difficult Middle of Faith and Faithless
October 02, 2020
When asked whether they agreed with the following statement, "Generally speaking, most people can be trusted," 40% of Baby Boomers agreed, 31% of Gen Xers agreed, and 19% of Millennials agreed. It doesn't take a degree in statistics to observe the downward drift in the generations concerning faith in our fellow humans. This growing lack of trust is making the tension between the desire for intimacy and the fear of betrayal less bridgeable and therefore heightening growing trends in isolation and tribalism. For those of us either raising or working with Gen Z (as this school age generation is being called), how do we instruct them to live in the tension of a fallen, untrustworthy world and the grace filled Kingdom of God? Is there anything we can do to see this discouraging statistic improve? This year's school theme comes out of 2 Thessalonians 3:3 which states, "But the Lord is faithful, and he will strengthen and protect you from the evil one." Let's unpack how a foundational faithfulness in the Lord can equip today's students for tomorrow's challenges.
- Be honest about the unfair and faithless realities of life this side of heaven. We want to protect our children from harm, but there is a cost to life sheltered from all adversity. Paul writes to the Thessalonians in the previous verse, "And pray that we may be delivered from wicked and evil men, for not everyone has faith." Paul wants this young church to be very clear that they all will encounter adversity and unfaithfulness in those around them. This is no less true for us today. We don't do our children any favors by needlessly removing the stings of betrayal or buffering the cost of being a disciple of Christ. Paul knew all too well the cost of following Christ would involve carrying a cross before a crown. The winds of adversity force tree roots to grow deeper, making them stronger and more able to thrive. We are fitting our kids for heaven and as Romans 5 says, "suffering produces perseverance, perseverance, character and character, hope."
- Consistently point our children's eyes to the only Faithful One. Psalm 121 begins with "I lift my eyes to the hills, where does my help come from?" The psalmist began this psalm with his eyes looking down on his way up to Jerusalem, but something alarming happens and now he is looking up. It is uncertain whether he is either looking to the hills as the source of the alarm or he is looking to the hills for a source of salvation but either way, trouble comes and he is searching for help. He is quick to reveal where he looks to for help; the One who made the hills. So whether the hills are the source of trouble or the source of help, the psalmist recognizes God is in control of both. As our world continues to struggle under the oppression of sin's faithlessness, we have an opportunity to help direct our children's attention, not just to the problem and the earthly causes and cures, but to the LORD who sits on His throne in the midst of the trial. They can be faithful and learn to trust because they can learn to trust the faithfulness of the Maker.
- The Lord is faithfully involved in our lives. With our youngest child turning 4 we are purging baby items, but one item has remained in use – the baby monitor. For 9 years this device has been positioned right near our heads guaranteeing we never get a solid night of rest. We are able to monitor our kids and are alerted to their cries of fear when they awake from a nightmare at 2AM. However, knowing we are monitoring from our room has never been much of a comfort to them in the grip of a nightmare. They want more than monitoring, they want to be watched over. They want our presence. Psalm 121 declares 5 times that the LORD watches over His people in order to protect them from all harm. This is not a conflict with my first point that life is full of suffering for the believer, rather a clarification. The LORD promises that if I trust in the LORD no harm comes to my truest self; the self that will live forever with Him. We are able to receive difficulties, not as an end in themselves, but as something that has passed through the hand of God.
One very real way we can prepare our students for tomorrow's challenges is to carefully explore the promises and faithfulness of God. Maybe the people of tomorrow won't be trustworthy, but because God is faithful we can be faithful. We don't lift our eyes to people for ultimate security and intimacy but to the Maker of heaven and earth. It is this truth we have the privilege of imparting to this generation.
Kindergarten Prep
Kindergarten Prep at Upton Lake Christian School is a place where children learn through play. We do this through:
Sensory fun
Letter recognition and sound
Numbers, shapes and colors
Writing and fine motor skills
Building social skills
Reading and story telling
But most importantly, discovering the love of God through Christ!
ULCS is amazing! The teachers/admin go above and beyond, they are just unbelievable!! During a time when all schools are closed, my son is still learning, doing his work and attending live online classrooms - seemingly without a hiccup of a transition during a time of chaos and uncertainty. ~ ULCS Parent, 2 weeks in to Remote Learning

Sound good? If you are interested in joining us for the 2021 2022 school year, please call Mrs. DeWitt at 845-266-3497 to explore your options, as spaces are limited.

Your gift helps to support Spiritual Emphasis Week, and all of our instruction and programs.
"One perk of being a small school is that we are not only a school community but a family. This family has never failed to encourage each other in bad times, laugh with each other in the good times, and push each other to become better... Yes, this school has brought me great memories, amazing friends, academic knowledge, life lessons, and much much more, but the most important thing is how it aided me in making my faith my own."
~ Jennifer Puhalski, Salutatorian, ULCS '20