Highlights
A day of Community Service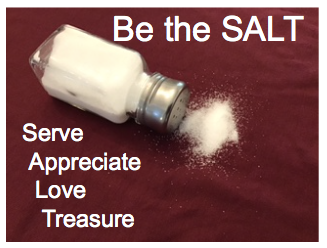 April 24, 2021
Inspired and encouraged! Those are two words to describe how I felt on Saturday at our Be the Salt Day. A little after 10 am as people were all gathering and chatting in the parking lot I looked up and 'happened' to see a Bald Eagle flying low in a beautiful blue sky! It was so clear to me it was God's way of saying, "Well done good and faithful servants." When I pointed it out, Judah (from Mr. Jordan's class) said, "And that's our mascot!" From that moment to us all gathering for prayer to walking around and seeing all of our students and families working together to socializing over pizza I was isnpired and encouraged. Inspired by how much good there is in our Upton Lake Community and encouraged by a little bit of normalcy in this covid world we have been stuck in.
I watched little pre-k students painting birdhouses for senior homes, 1/2 graders making 60 cards of love and encouragement, 3/4 graders cleaning every chair in our gym, 5/6 graders gathering over 40 bags of leaves at the cemetary down the street, 7/8 graders organizing and delivering canned goods, 9/10 graders scrubbing every inch of our kitchen and 11/12 graders (I didn't see this only heard) beautifying the front of a Crisis Pregnancy Center building. Kindergarten will be packing bags for essential workers this week. It was a beautiful day from the weather to the people!
Fostering Family Devotions
Click here to request a free copy of "Fostering Family Devotions" by our Chaplain and Bible Teacher, Zach Justice. Then check out all that Upton Lake has to offer!
Our Covid-19 Response
Our small community is blessed to be able to respond quickly, personally, and wisely. Thank you to the families who are so graciously adapting to the changes required in these times.
God blessed us with the ability to remain in-person for all but 1 week in 2020-2021.
For 2021-2022, we will meet in person. Virtual learning will be available only for those in 10-day quarantines due to exposure or diagnosis of COVID-19, if they feel well enough to participate.
FAQ's about fall 2021 (updated August 12, 2021)
News from Our Blog
#NotJustWords
August 30, 2021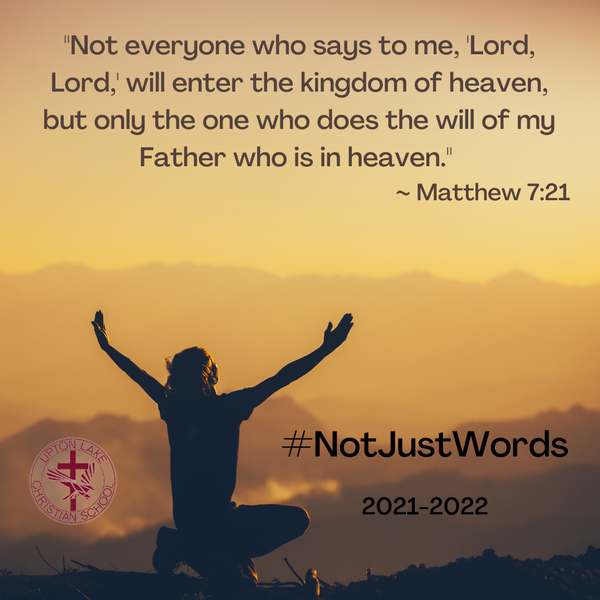 "There are two ways to speak the truth: as bullets or as seeds. Use the truth as a bullet, and you will kill relationships. Plant the truth as a seed, and it will take root and grow, influencing the person in whose heart it was planted." Gary Chapman
In Mathew 7:21, at the end of The Sermon on the Mount, Jesus challenges the 2 things that provide us with the most assurance of our beliefs and convictions - what we say with emotional conviction and what we do with obvious success - and provides a deeper reason for assurance.
Jesus challenges those who are quick and enthusiastic to call Jesus not just "Lord" but "Lord, Lord," the double emphasis adds conviction and emotion to the statement. He is NOT downplaying the importance of what it means to declare Him Lord. The word in Greek is Kyrie and is something similar to the Spanish word Senor, which can be translated Lord in the authoritative spiritual sense, like God, or it can be something on the lines of "sir". Here it seems to be more than a mere "sir". Romans 10:9-10 parallels with Christ's teaching here that the heart along with the declaration of "Jesus is Lord" is the sign of disciples. Obviously, we see here that Jesus says, "Not everyone…" which means it is very possible to declare Jesus is Lord, and not have the heart of a follower. When a person states "Jesus is Lord" they are declaring 2 things - a willingness to obey/submit and that there is a personal relationship. How many of us have had the experience as either a coach, expert or specialist and have a person call us coach, but then totally disregard a clear direction? Anyone can say "sure, coach" but it is the player who actually runs the play being told who is living in the reality that he or she is the actual coach.
The second group Jesus challenges has an impressive list of things having been done - prophesying, driving out demons and performing miracles. These people have the words and seemingly the deeds to match and yet they aren't allowed into the kingdom of heaven either. Again, it isn't doing good things that is the problem. One of the biggest points made by James in his letter is centered on the teaching that faith without deeds is dead. Doing things for God is a good and necessary thing so what is missing? The relationship is missing.
Jesus might be thinking of Judas here because he would have done all these things but wasn't in a relationship with Jesus. When Jesus says He doesn't know these people, it isn't an identity problem but a lack of intimacy. It is the difference between knowing my wife and children and "knowing" a famous person. Then Jesus says something that seems to be a hard turn in the conversation - "Away from me evil doers."
What is it about these people that get such a strong rebuke? It is the same underlying attitude that we see in Peter as he rebukes Jesus at the teaching of His impending crucifixion. But Jesus' kingly authority is directly connected to His role as the suffering servant. We can't have the kingdom without placing ourselves beneath the cross. Peter obviously changes his position on the need for the cross - but "these people" have not. They are evil because they have no place for the suffering servant who calls them to follow. It isn't that Jesus is pointing out a lack of perfection - no one would pass that test - but He is revealing a settled direction. Put simply, a Biblical definition of evil is opposition against God and we see it here. They have no real understanding or perceived need for the cross, the very thing God declares to be essential. The verb tense used is the present participle suggesting a continuous regular decision. This is why Paul says he ventures to speak nothing except Jesus Christ and Him crucified. The cross doesn't nullify His lordship, it proves it.
This is why we need to study and know the word of God, not what we think it says, but what it really says. Why memorize Scripture? Because it forces us to look at a text long enough to get past what we think it says. Why study through an entire book of the Bible and not just hop around from verse to verse? Because it will force us into discussions and subjects we would rather not think about. Once we allow The Bible to be our authority and adjust ourselves to its teachings, then we can begin to see the kingdom of God start to take shape around us because we now know what we are looking for. We need to not only reject the kingdom of the earth, but adjust our vision and expectations to see how the Kingdom of Heaven was brought by Jesus. We need to do more than just dismantle false worldviews, we need to build up the one that fits with reality most truly.
As our students enter a new school year, we will be unpacking Matthew 7:21, and other passages of Scripture, to see how we should live and think. #NotJustWords
ULCS is amazing! The teachers/admin go above and beyond, they are just unbelievable!! During a time when all schools are closed, my son is still learning, doing his work and attending live online classrooms - seemingly without a hiccup of a transition during a time of chaos and uncertainty. ~ ULCS Parent, 2 weeks in to Remote Learning

Sound good? If you are interested in joining us for the 2021 2022 school year, please call Mrs. DeWitt at 845-266-3497 to explore your options, as spaces are limited.

Your gift helps to support Spiritual Emphasis Week, and all of our instruction and programs.
"One perk of being a small school is that we are not only a school community but a family. This family has never failed to encourage each other in bad times, laugh with each other in the good times, and push each other to become better... Yes, this school has brought me great memories, amazing friends, academic knowledge, life lessons, and much much more, but the most important thing is how it aided me in making my faith my own."
~ Jennifer Puhalski, Salutatorian, ULCS '20