Highlights
See you at the movies!
3 Saturdays at 10 am at Lyceum Cinemas, 15 Old Farm Rd, Red Hook, NY 12571
February 26: The Lion, the Witch and the Wardrobe
March 26: Akeelah & the Bee
April 23: Star Wars (Episode 4)
Tickets are $6 per person. Buy individual tickets here.
Package deal: buy tickets to all 3 movies for $15 per person here.
Tickets can also be purchased at ULCS during school hours. Online purchases will be sent home with your student, available for pickup, or at the movies on February 26.
100% of the ticket price (minus online payment fees) will go to Upton Lake Christian School.
Thanks to our event sponsor: Lyceum Cinemas!
Thanksgiving Service & Luncheon - a ULCS tradition returns
"May we have more all-student activities like we used to have at ULCS?" Our seniors miss these activities, which have been paused or changed due to the pandemic. So on Thursday, Nov 18 we held a Thanksgiving Service in the sanctuary, and then gathered ALL together to enjoy a meal. It was great to see everyone working to do their part -
11/12th graders set up tables/chairs and took them down
9/10th graders had student representatives read a verse or share what they are thankful for
7/8th graders shared a reading from Psalms
5/6th graders recited a verse and prayer
3/4th graders cleaned up after the lunch
1/2nd graders wrote what they are thankful for on a feather, shared it with everyone and then put it on a turkey
Kindergarteners decorated our tables for us
Mr. Hawk opened our service with a song
Mr. Justice shared a message
Many parents donated mashed potatoes, green beans or pie, or came to help with set up and serving
It is a blessing to be part of this community.
A day of Community Service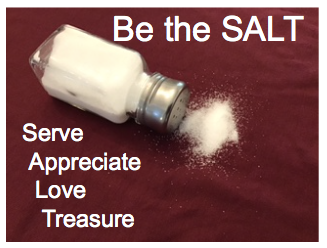 April 24, 2021
Inspired and encouraged! Those are two words to describe how I felt on Saturday at our Be the Salt Day. A little after 10 am as people were all gathering and chatting in the parking lot I looked up and 'happened' to see a Bald Eagle flying low in a beautiful blue sky! It was so clear to me it was God's way of saying, "Well done good and faithful servants." When I pointed it out, Judah (from Mr. Jordan's class) said, "And that's our mascot!" From that moment to us all gathering for prayer to walking around and seeing all of our students and families working together to socializing over pizza I was isnpired and encouraged. Inspired by how much good there is in our Upton Lake Community and encouraged by a little bit of normalcy in this covid world we have been stuck in.
I watched little pre-k students painting birdhouses for senior homes, 1/2 graders making 60 cards of love and encouragement, 3/4 graders cleaning every chair in our gym, 5/6 graders gathering over 40 bags of leaves at the cemetary down the street, 7/8 graders organizing and delivering canned goods, 9/10 graders scrubbing every inch of our kitchen and 11/12 graders (I didn't see this only heard) beautifying the front of a Crisis Pregnancy Center building. Kindergarten will be packing bags for essential workers this week. It was a beautiful day from the weather to the people!
Our Covid-19 Response
Our small community is blessed to be able to respond quickly, personally, and wisely. Thank you to the families who are so graciously adapting to the changes required in these times.
God blessed us with the ability to remain in-person for all but 1 week in 2020-2021.
For 2021-2022, we will meet in person. Virtual learning will be available only for those in 10-day quarantines due to exposure or diagnosis of COVID-19, if they feel well enough to participate.
FAQ's about fall 2021 (updated August 12, 2021)
News from Our Blog
Summer Reading
June 15, 2021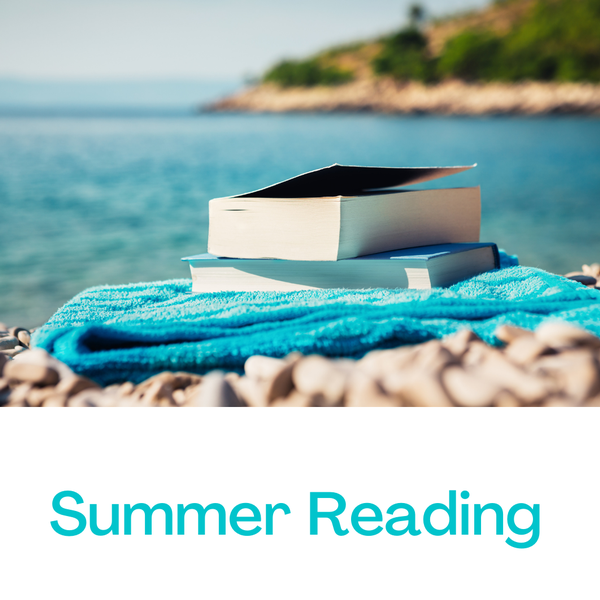 Why Summer Reading?
Renee Smith
ULCS high school English teacher
The school year is drawing to a close. The days are growing warmer, and the sun is shining longer. It's the perfect time of year to head outdoors.
This is the signal for English teachers everywhere to assign summer reading.
(Cue groans from students and resigned sighs from parents.)
Considering all the advances in modern education, why do educators still follow this old-fashioned practice of requiring students to read books over the summer months?
Everyone knows that summer reading helps improve vocabulary and reading comprehension skills.
Yet did you know that reading—specifically reading fiction—improves our brains in other ways as well?
When we read a text book or listen to a lecture, the language parts of our brains work alone to decode meaning. However, when we read literature, more of our brain is activated.
Reading fiction activates any parts of our brains related to the events of the story. So to some degree, we live the stories we read. This can create a long-lasting impact on our brains.
Scientists at Emory University proved this through a study they held using college students as subjects. First, researchers instructed college students to read 30 pages of a novel.
They then performed MRI scans on those students' brains. The researchers discovered that for five days after that one reading session, the students' brains showed higher activity in the temporal cortex. This is the part of the brain that controls how receptive we are to language.
Thus, reading fiction helped the college students perform better in subject areas not related to literature.
Other studies have shown that reading fiction improves theory of mind as well. Theory of mind is the ability to attribute mental states—beliefs, intents, desires, pretending, knowledge, etc.—to ourselves and others.
Theory of mind is what leads us to an understanding of the beliefs, desires, and intentions of others, especially those that are different from our own. Strengthening theory of mind can help us understand ourselves better and make us more empathetic to the humans around us.
So why do we English teachers assign summer reading?
Reading fiction improves brain connectivity, enhances how the brain performs in many subject areas, sharpens our ability to understand ourselves and others, and deepens our feelings of compassion.
To me that sounds like summer reading for the win!
Resources:
"The Surprising Power of Reading Fiction: 9 Ways It Makes Us Happier and More Creative." Buffer, https://buffer.com/resources/reading-fiction/.
"Reading Fiction Improves Brain Connectivity and Function." Psychology Today, Sussex Publishers, www.psychologytoday.com/us/blog/the-athletes-way/201401/reading-fiction-improves-brain-connectivity-and-function.
"The Effect of Reading Fiction on the Brain: Do Books Increase Empathy?" Cognition Today, https://cognitiontoday.com/the-effect-of-reading-fiction-on-the-brain-do-books-increase-empathy/.

ULCS is amazing! The teachers/admin go above and beyond, they are just unbelievable!! During a time when all schools are closed, my son is still learning, doing his work and attending live online classrooms - seemingly without a hiccup of a transition during a time of chaos and uncertainty. ~ ULCS Parent, 2 weeks in to Remote Learning

Sound good? If you are interested in joining us for the 2022 2023 school year, please call Mrs. DeWitt at 845-266-3497 to explore your options, as spaces are limited.

Your gift helps to support ULCS as we live out our mission.
"One perk of being a small school is that we are not only a school community but a family. This family has never failed to encourage each other in bad times, laugh with each other in the good times, and push each other to become better... Yes, this school has brought me great memories, amazing friends, academic knowledge, life lessons, and much much more, but the most important thing is how it aided me in making my faith my own."
~ Jennifer Puhalski, Salutatorian, ULCS '20