Highlights
A day of Community Service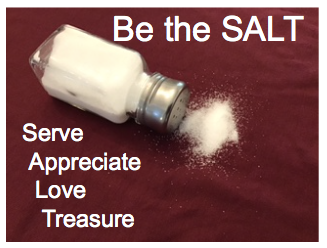 April 24, 2021
Inspired and encouraged! Those are two words to describe how I felt on Saturday at our Be the Salt Day. A little after 10 am as people were all gathering and chatting in the parking lot I looked up and 'happened' to see a Bald Eagle flying low in a beautiful blue sky! It was so clear to me it was God's way of saying, "Well done good and faithful servants." When I pointed it out, Judah (from Mr. Jordan's class) said, "And that's our mascot!" From that moment to us all gathering for prayer to walking around and seeing all of our students and families working together to socializing over pizza I was isnpired and encouraged. Inspired by how much good there is in our Upton Lake Community and encouraged by a little bit of normalcy in this covid world we have been stuck in.
I watched little pre-k students painting birdhouses for senior homes, 1/2 graders making 60 cards of love and encouragement, 3/4 graders cleaning every chair in our gym, 5/6 graders gathering over 40 bags of leaves at the cemetary down the street, 7/8 graders organizing and delivering canned goods, 9/10 graders scrubbing every inch of our kitchen and 11/12 graders (I didn't see this only heard) beautifying the front of a Crisis Pregnancy Center building. Kindergarten will be packing bags for essential workers this week. It was a beautiful day from the weather to the people!
Fostering Family Devotions
Click here to request a free copy of "Fostering Family Devotions" by our Chaplain and Bible Teacher, Zach Justice. Then check out all that Upton Lake has to offer!
Our Covid-19 Response
Our small community is blessed to be able to respond quickly, personally, and wisely. Thank you to the families who are so graciously adapting to the changes required in these times.
God blessed us with the ability to remain in-person for all but 1 week in 2020-2021.
For 2021-2022, we will meet in person. Virtual learning will be available only for those in 10-day quarantines due to exposure or diagnosis of COVID-19, if they feel well enough to participate.
FAQ's about fall 2021 (updated August 12, 2021)
News from Our Blog
the Kingdom: the "already" and the "not yet"
September 21, 2021
Are Christians a people out of time - trying to go back to a more archaic and less enlightened way of life and trying to impose an ancient value system on a modern world? That's how many in the world view us.
What we actually believe is MORE radical - the Future Kingdom of heaven is time travelling back to us and bringing its perfect values and truths with it. There are definite clashes because two cultures are trying to occupy the same space - the human heart. As we allow the authority of Jesus to reign in our hearts, we find His kingdom is what we have all been searching for. He is a monarch who died for his subjects in order to bring us freedom, which contradicts the monarchs of this world. Monarchs of this world believe, like Lord Farquaad, "some of you may die, but that's a sacrifice I am willing to make." We have a limited knowledge of how the future is going to play out, the opportunity to actually shape the kingdom and can help bring it to pass. This will happen as we:
Acquire a working knowledge of this Kingdom
Are comforted by how the 'already' and the 'not yet' can explain how this Kingdom has power to reshape our entire identity
The unexpected nature of the Kingdom
Consider the theme of the Kingdom of God as you look at the Parables in Matthew 13. Here are some truths:
It is slow growing but impossible to stop.
It is costly… but worth the full commitment.
It creates conflict.
It is both outside of us AND within us. It brings invisible change inside of us like yeast, and outside of us like salt in our food.
The struggle of the already and the not yet Kingdom
Matthew uses present tense, "The kingdom of heaven IS like…" but also future tense, "Not everyone will enter" or "Your kingdom come." Which is it? On its way or here? Yes!
Wouldn't it be nice to say simultaneously "I am already done and not yet done at the same time?" I'd love to respond when Melody calls me, "are you home yet?" with "I am already home" even while I am still 10 minutes out. But she'd only hear "not yet."
But there are other areas of life where this can be done. In 2010, when Melody was pregnant with Caedmon, I could honestly say "I am a father, but not yet fully." There are also seasons of life where we are already but not yet something - teenagers are living as adults in many ways, but not adults in other ways.
The already and not yet keeps us both living by hope and encouragement of what already is, yet in humility and dependency on God for what is not yet. The church struggles with this. Paul writes a letter to the Thessalonians correcting their overemphasis on "the Kingdom is here already" by instructing them to work and live quietly. They were sitting around waiting for Christ to return and not working or evangelizing and creating a burden on the rest of the congregation. Paul also addresses the other end of the spectrum when writing to the Corinthians, reminding them to think of what is already true. From lawsuits to sinful abuse of freedom, Paul challenges them to live as citizens of the Kingdom they are already in (1 Cor. 6:9-11).
Next time we'll continue to look at this conflict of already and not yet.
ULCS is amazing! The teachers/admin go above and beyond, they are just unbelievable!! During a time when all schools are closed, my son is still learning, doing his work and attending live online classrooms - seemingly without a hiccup of a transition during a time of chaos and uncertainty. ~ ULCS Parent, 2 weeks in to Remote Learning

Sound good? If you are interested in joining us for the 2021 2022 school year, please call Mrs. DeWitt at 845-266-3497 to explore your options, as spaces are limited.

Your gift helps to support Spiritual Emphasis Week, and all of our instruction and programs.
"One perk of being a small school is that we are not only a school community but a family. This family has never failed to encourage each other in bad times, laugh with each other in the good times, and push each other to become better... Yes, this school has brought me great memories, amazing friends, academic knowledge, life lessons, and much much more, but the most important thing is how it aided me in making my faith my own."
~ Jennifer Puhalski, Salutatorian, ULCS '20