Highlights
A day of Community Service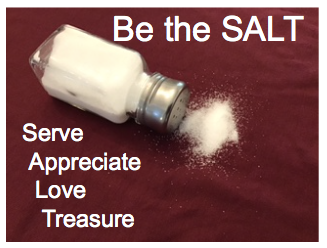 April 24, 2021
Inspired and encouraged! Those are two words to describe how I felt on Saturday at our Be the Salt Day. A little after 10 am as people were all gathering and chatting in the parking lot I looked up and 'happened' to see a Bald Eagle flying low in a beautiful blue sky! It was so clear to me it was God's way of saying, "Well done good and faithful servants." When I pointed it out, Judah (from Mr. Jordan's class) said, "And that's our mascot!" From that moment to us all gathering for prayer to walking around and seeing all of our students and families working together to socializing over pizza I was isnpired and encouraged. Inspired by how much good there is in our Upton Lake Community and encouraged by a little bit of normalcy in this covid world we have been stuck in.
I watched little pre-k students painting birdhouses for senior homes, 1/2 graders making 60 cards of love and encouragement, 3/4 graders cleaning every chair in our gym, 5/6 graders gathering over 40 bags of leaves at the cemetary down the street, 7/8 graders organizing and delivering canned goods, 9/10 graders scrubbing every inch of our kitchen and 11/12 graders (I didn't see this only heard) beautifying the front of a Crisis Pregnancy Center building. Kindergarten will be packing bags for essential workers this week. It was a beautiful day from the weather to the people!
Fostering Family Devotions
Click here to request a free copy of "Fostering Family Devotions" by our Chaplain and Bible Teacher, Zach Justice. Then check out all that Upton Lake has to offer!
Our Covid-19 Response
Upton Lake returned to school on Sept 9, 2020 with full in-person learning. We provided flexible remote learning options to meet the needs of all students who are unable to attend in person, whether for the duration or just temporarily due to illness or exposure.
Our small community is blessed to be able to respond quickly, personally, and wisely. Thank you to the families who are so graciously adapting to the changes required in these times.
Update: 7/9/21 We are carefully watching the state mandates related to schools but do not expect final word for the requirements for 2021-2022 until August.
FAQ's about fall 2020 reopening (stay tuned for 2021 information)
News from Our Blog
Toys, toys, toys!
October 28, 2020
Guest post by Elisa DeWitt, ULCS Kindergarten teacher:
As a mother of four children with aunts and grandparents that enjoy spoiling my kids my house was filled with toys! My first three kids are boys so we had endless legos, trains, construction vehicles, building things and on and on. Although the traditional girl toys were a welcome sight it just added to the stuff. Can you relate to this??
I realized I needed a plan. I got 12 boxes and labeled each with a different month. I divided up the toys with a nice mix into the 12 boxes, making sure Christmas things were in the December box, summer things in the prospective months and so on. Then at the end of each month I packed up the toys with their help and put that box away. The most exciting part was getting the next month's box out! It was like Christmas every month! My kids would dive into the box pulling things out saying, "Oh! Remember this?!!!"
It was a great plan that helped with several issues… The clutter of toys was cut down tremendously. Clean up for the kids was less overwhelming. My kids really appreciated the toys each month that they had. Also I felt organized!
Try it out! You will not be disappointed!
Kindergarten Prep
Kindergarten Prep at Upton Lake Christian School is a place where children learn through play. We do this through:
Sensory fun
Letter recognition and sound
Numbers, shapes and colors
Writing and fine motor skills
Building social skills
Reading and story telling
But most importantly, discovering the love of God through Christ!
ULCS is amazing! The teachers/admin go above and beyond, they are just unbelievable!! During a time when all schools are closed, my son is still learning, doing his work and attending live online classrooms - seemingly without a hiccup of a transition during a time of chaos and uncertainty. ~ ULCS Parent, 2 weeks in to Remote Learning

Sound good? If you are interested in joining us for the 2021 2022 school year, please call Mrs. DeWitt at 845-266-3497 to explore your options, as spaces are limited.

Your gift helps to support Spiritual Emphasis Week, and all of our instruction and programs.
"One perk of being a small school is that we are not only a school community but a family. This family has never failed to encourage each other in bad times, laugh with each other in the good times, and push each other to become better... Yes, this school has brought me great memories, amazing friends, academic knowledge, life lessons, and much much more, but the most important thing is how it aided me in making my faith my own."
~ Jennifer Puhalski, Salutatorian, ULCS '20