Highlights
5 More ULCS Graduates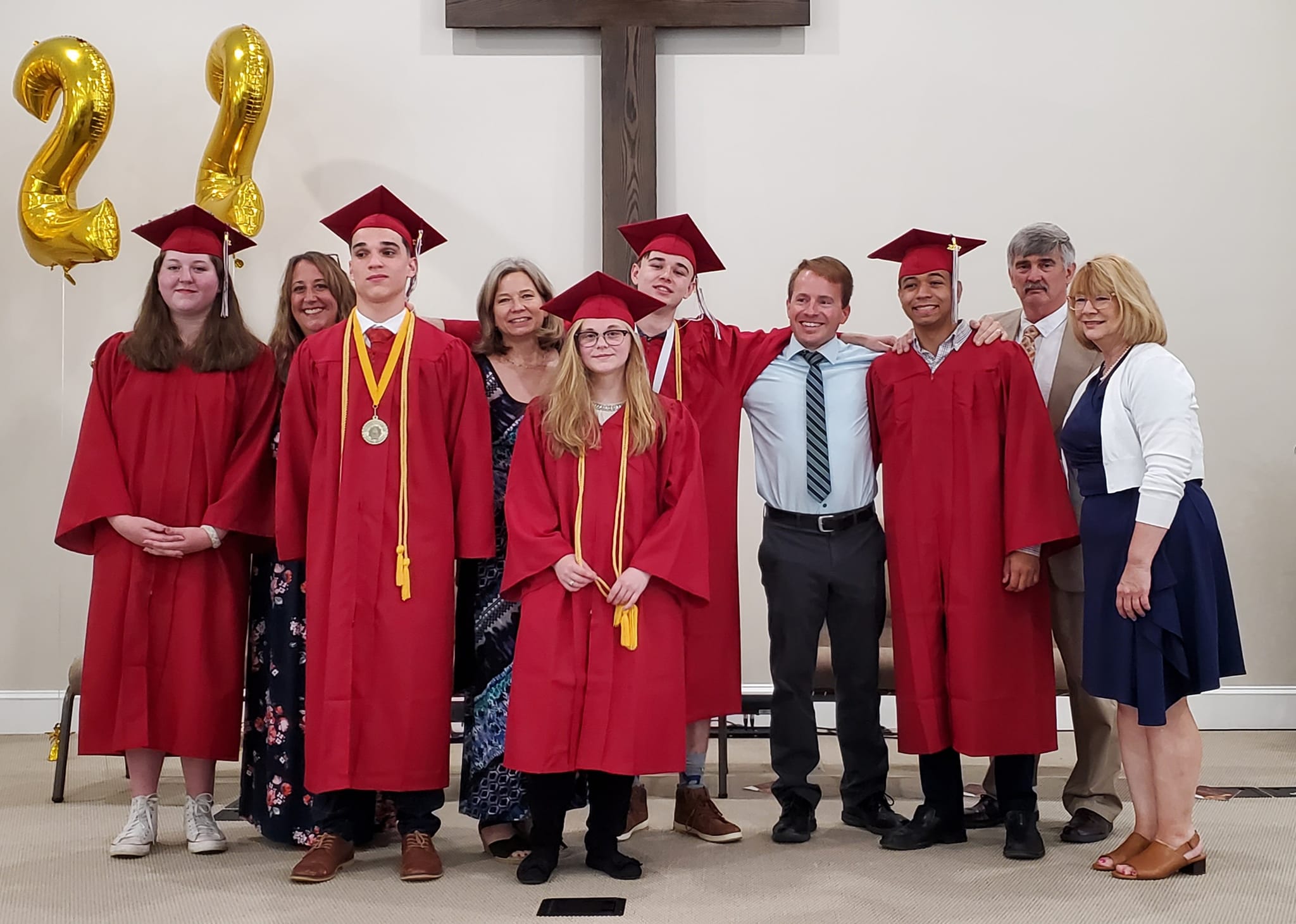 Our five latest graduates celebrated their accomplishments on Saturday, June 18, 2022. Pictured above are: Hannah Gertling, Mrs. DeWitt, Ethan Karaman, Mrs. Greer, Isabella Lictro, Justin Puhalski, Mr. Justice, Alex Scheduling, Mr. Barton and Ms. Smith.
Highlights from our 2022 Graduation Speaker, Mr. Danny Ecker:
Proverbs Chapter 9 describes a decision point. In every decision we can choose God's way or the world's way - and both look attractive.
Mr. Ecker challenged the graduates (and all of us) to not wait until we arrive at that fork in the road. The world has a way of making their way look very inviting: "Stolen water is sweet; food eaten in secret is delicious!" (Proverbs 9: 17)
As our PE teacher and coach, his illustration came from baseball, of course! A baseball player trains and practices, and then in the game he hits the ball. He doesn't have to stop and think about which way to run. It's so ingrained, he drops the bat and runs to first base. Our choice for God's way should be so ingrained in us we don't even have to stop and think.
This is what we do at Upton Lake. From Bible verse memorization, class discussions, Bible classes every year, and individual discussions with teachers to help build a strong foundation. Our prayers go with you, graduates, as you head out on the next phase of your journey!
News from Our Blog
Whom Shall I Fear?
October 18, 2022
Our world bombards us with messages on every side. Is there a sickness, an economy worry, a war,
financial concerns, or just the unknown of the future? These situations can turn to fear and anxiety.

My life verse, the one I read that opened the door to salvation for me, is Psalm 27:1
"The Lord is my light and my salvation, whom shall I fear? The Lord is the strength of my life of whom
shall I be afraid? " The answer being nothing or no one.

On a cold January morning I spoke on this in our teacher morning devotions. It went something like this
using a fear of flying illustration. When we board a plane for a flight, we turn over the responsibility for
the safety of the trip to the pilot. Many things may happen to you on the flight. You could spill your
coffee on your pants, trip and twist your ankle on the way to the bathroom, or hit your head on the
overhead compartment getting back to your seat. But these are small in comparison to the security you
had traveling 20,000 miles plus in the air at 2,000 miles per hour. So it is with every fear and situation in
our lives, even the worst. Standing with God is the only safe and secure place to be, no matter what may
happen in our broken world.

I was reminded how the Lord has sustained me through many dark and deep waters. That day I also felt
the Lord telling me to hold fast this verse and remember His goodness not matter what might befall. I
thought of my husband, my children and my father. A few days later on my way home from school I was
in an auto accident. When my world came crashing down, this verse rushed into my mind. I need to not
fear, but cry out to the Lord, my light and my salvation.

A few years have gone by and I still suffer with effects of the accident. My body has not returned to its
former state. But through all this, the Lord is the stronghold of my life. So when the world tries to fill us
with fear or difficult times come to us. Remember Him who upholds us, Jesus who is our light and our
salvation. There is no one to fear.
ULCS is amazing! The teachers/admin go above and beyond, they are just unbelievable!! During a time when all schools are closed, my son is still learning, doing his work and attending live online classrooms - seemingly without a hiccup of a transition during a time of chaos and uncertainty. ~ ULCS Parent, 2 weeks in to Remote Learning

Sound good? If you are interested in joining us for the 2022 2023 school year, please call Mrs. DeWitt at 845-266-3497 to explore your options, as spaces are limited.

Your gift helps to support ULCS as we live out our mission.
"One perk of being a small school is that we are not only a school community but a family. This family has never failed to encourage each other in bad times, laugh with each other in the good times, and push each other to become better... Yes, this school has brought me great memories, amazing friends, academic knowledge, life lessons, and much much more, but the most important thing is how it aided me in making my faith my own."
~ Jennifer Puhalski, Salutatorian, ULCS '20