Highlights
5 More ULCS Graduates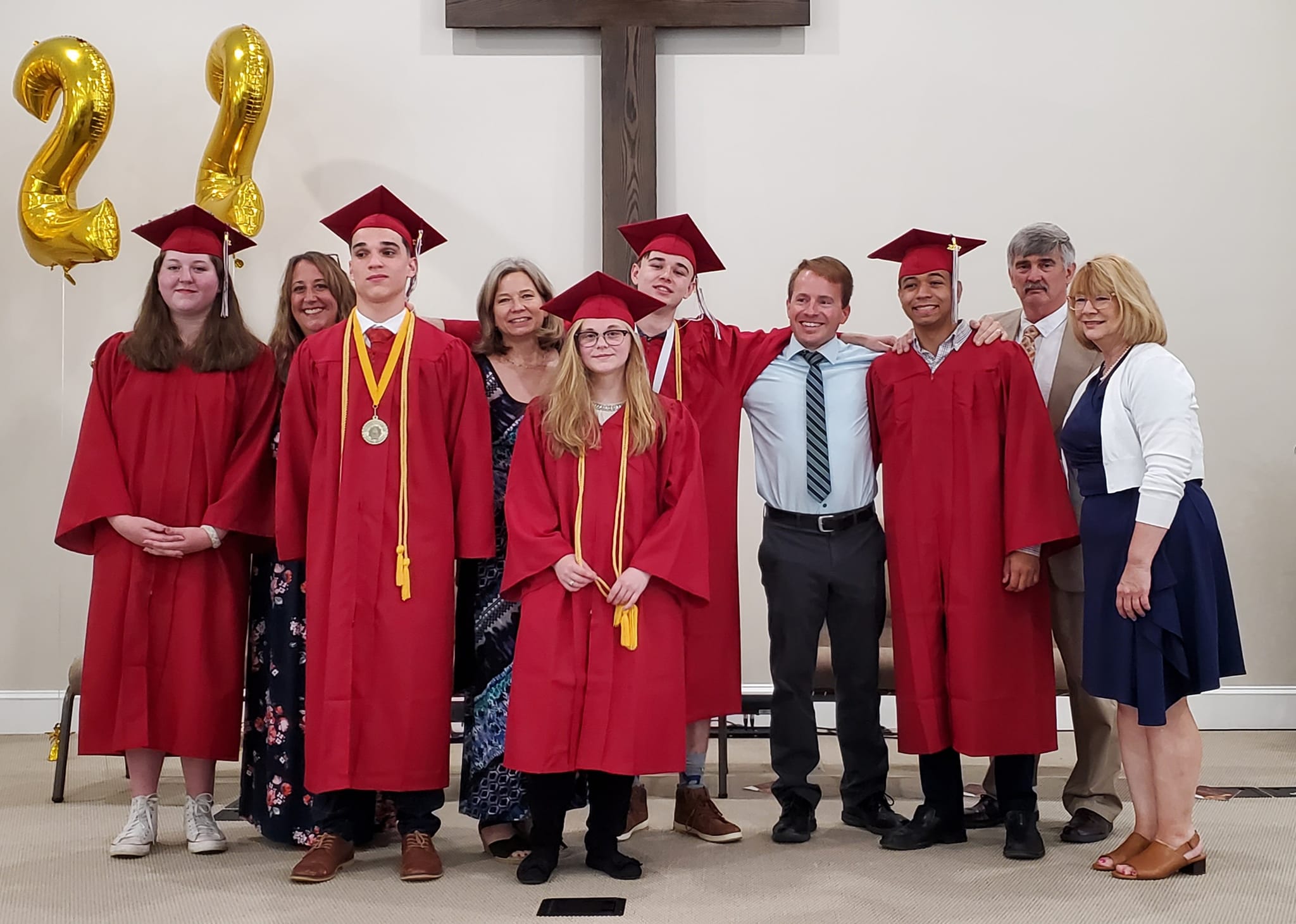 Our five latest graduates celebrated their accomplishments on Saturday, June 18, 2022. Pictured above are: Hannah Gertling, Mrs. DeWitt, Ethan Karaman, Mrs. Greer, Isabella Lictro, Justin Puhalski, Mr. Justice, Alex Scheduling, Mr. Barton and Ms. Smith.
Highlights from our 2022 Graduation Speaker, Mr. Danny Ecker:
Proverbs Chapter 9 describes a decision point. In every decision we can choose God's way or the world's way - and both look attractive.
Mr. Ecker challenged the graduates (and all of us) to not wait until we arrive at that fork in the road. The world has a way of making their way look very inviting: "Stolen water is sweet; food eaten in secret is delicious!" (Proverbs 9: 17)
As our PE teacher and coach, his illustration came from baseball, of course! A baseball player trains and practices, and then in the game he hits the ball. He doesn't have to stop and think about which way to run. It's so ingrained, he drops the bat and runs to first base. Our choice for God's way should be so ingrained in us we don't even have to stop and think.
This is what we do at Upton Lake. From Bible verse memorization, class discussions, Bible classes every year, and individual discussions with teachers to help build a strong foundation. Our prayers go with you, graduates, as you head out on the next phase of your journey!
News from Our Blog
George Washington and the Newburgh Conspiracy
November 08, 2022
Reflections on politics in the US in 2022 vs. 1783-
George Washington and the Newburgh Conspiracy- (Character is all that really matters)
The year was 1783. America had defeated the mighty British empire and was independent, but faced many challenges. The infant country was in debt, (sound familiar?) and many of the Continental Armies officers had not been paid in months. While stationed in Newburgh, New York, several of them actually discussed marching on the national capital of Philadelphia and setting up a dictatorship to "fix the situation". General Washington was their first choice as dictator, but if he refused, they would choose someone else. By the grace of God, Washington was informed of their plot and showed up unannounced at their meeting. After assuring the very unhappy officers of the desire of Congress to fix the situation, he refused their wishes of installing him as dictator and basically walked away from power. His only desire was to see his country prosper; he would serve only if necessary. He would, of course, be elected to 2 terms and again walked away from power in 1797. Let us pray for leaders who desire only to serve their country and not for any personal gain.
ULCS is amazing! The teachers/admin go above and beyond, they are just unbelievable!! During a time when all schools are closed, my son is still learning, doing his work and attending live online classrooms - seemingly without a hiccup of a transition during a time of chaos and uncertainty. ~ ULCS Parent, 2 weeks in to Remote Learning

Sound good? If you are interested in joining us for the 2022 2023 school year, please call Mrs. DeWitt at 845-266-3497 to explore your options, as spaces are limited.

Your gift helps to support ULCS as we live out our mission.
"One perk of being a small school is that we are not only a school community but a family. This family has never failed to encourage each other in bad times, laugh with each other in the good times, and push each other to become better... Yes, this school has brought me great memories, amazing friends, academic knowledge, life lessons, and much much more, but the most important thing is how it aided me in making my faith my own."
~ Jennifer Puhalski, Salutatorian, ULCS '20